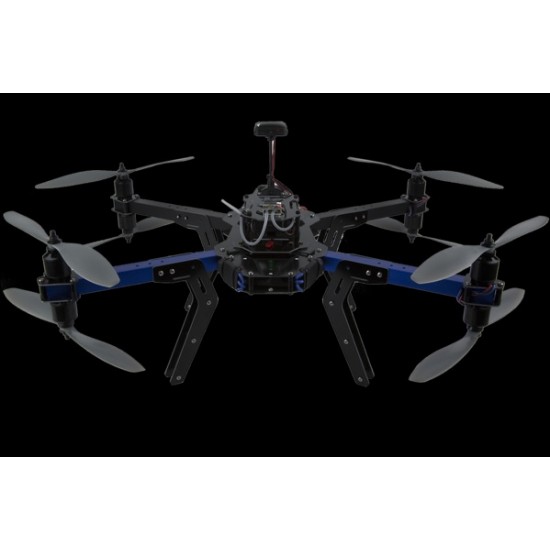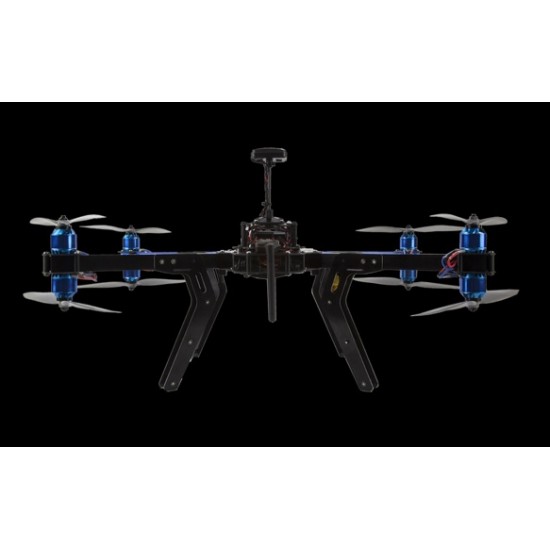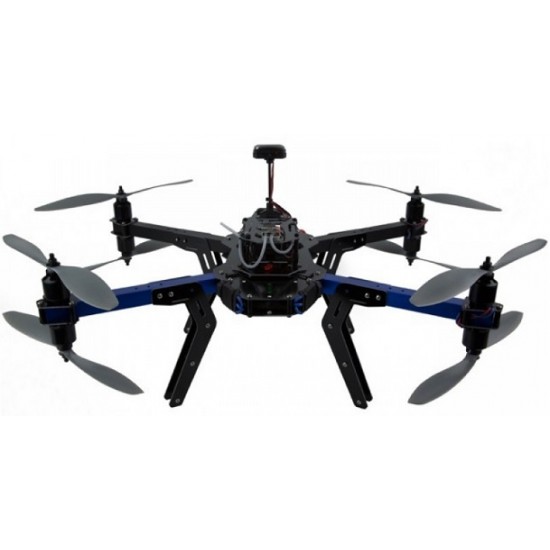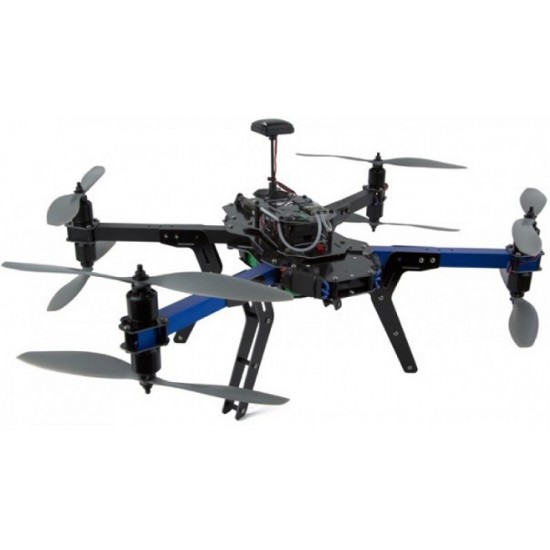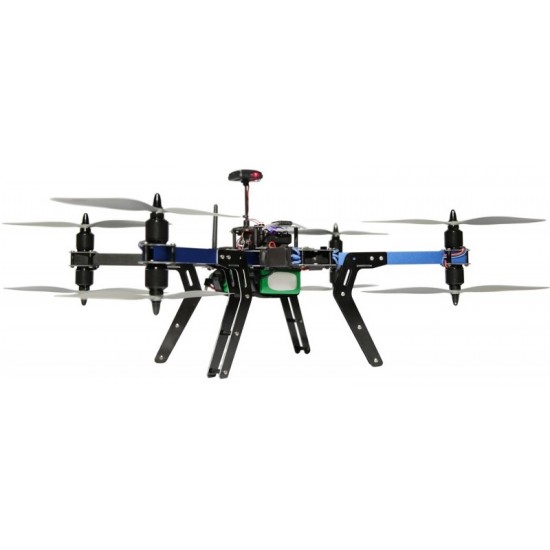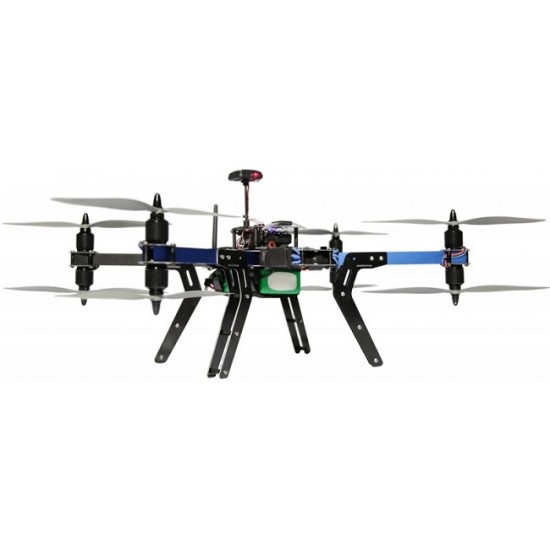 -9 %





3DR X8+ Drone UAV RTF
Fast Delivery
Fast, Reliable & Secure Delivery
3DR X8+ Drone UAV RTF
The newly updated 3DR X8+ RTF heavy lift multirotor is a powerful, redundant and versatile solution for aerial photography and autonomous flight applications.
This new version of the 3DR X8+ has been completely redesigned from the ground up, featuring increased lifting power, improved flight time and greater responsiveness, thanks to its higher voltage 4S batteries.
The new X8 features Pixhawk, 3DR most advanced autopilot system yet. Combined with precise GPS navigation, built-in advanced processor and sensor technology from ST Microelectronics® and a NuttX real-time operating system, this autopilot delivers incredible performance, flexibility, and reliability for autonomous flight.
With its plug-and-play brushless gimbal compatibility, its swept back front arms and stability in high winds, the updated 3DR X8+ is an ideal aerial platform for capturing stable, jello-free imagery. This is a robust and easy-to-fly copter with flexible payload options that can take off and land anywhere.
Our new design is packed with features, including a fixed FPV camera mounting point, and a built-in 12V regulator to power FPV equipment and a gimbal. It also offers more room for accessories (such as FPV gear, OSD, sonar sensors, telemetry radios. and other devices). Fourteen M3 bolt-on mounting points make it easier than ever to mount sensors, cameras, and other devices.
The 3DR X8+ arrives fully configured. Just unfold the arms and legs, attach the propellers, charge your battery, and you're ready to fly.
PACKAGE INCLUDES:
Ready to fly 3DR X8+ octocopter
Flight battery and charger
Operation Manual and Flight Checklist
TECHNICAL SPECIFICATIONS:
Pixhawk Autopilot System
3DR Power Module with XT60 connector
3DR ublox GPS with magnetometer
880 Kv brushless motors
20 Amp ESCs with SimonK firmware
10x4.7 slow-fly APC propellers
One (1) 4S 6000 mAh battery pack, battery charger and battery bag
Vehicle weight (with battery): 5.4 lbs
Box dimensions: 24 in x 24 in x 8 in
Shipping weight: 14.5 lbs
Average flight time: 12-15 minutes*
Payload capacity: up to 1000 g
* Average flight time for basic 3DR X8+ RTF configuration. Actual flight times will vary depending on flying style, environmental conditions, payload, and other variables.
X8+ FEATURES:
Ready to Fly
Inside the X8+ box is everything you need to fly. Simply attach the props, charge the battery, and you're ready to fly manually with the included remote controller autonomously with a Mac, PC or Android device.
Follow Me And Much More
3DR's 3rd Person View (3PV) Follow Me technology turns your IRIS+ into your own hands-free aerial camera crew that puts you in the middle of your own adventure. IRIS+ can be easily setup to follow any GPS enabled Android device. Not only will X8+follow you, but this advanced technology controls the gimbal to keep the camera centered on you, capturing sweeping cinematic video from a perspective unlike any other. It also features a full range of autonomous flight modes, including waypoint navigation, loiter, circle, and return to launch.
Automatic Mission Planning
Using the free DroidPlanner app, X8+ users can plan flights by simply drawing a flight plan with unlimited waypoints for reliable, repeatable missions, and flight data analysis, on any Android tablet or phone. This allows for hands free flight control, your drone will go where you tell it to go, with virtually unlimited waypoints - even keep IRIS+ pointing to the same location via a Region of Interest (ROI) waypoint throughout the entire flight. This enables fun autonomous journeys, and automatically stabilized video capture that would be otherwise impossible.
Flight Protection
The X8+ can land itself automatically, or return to a home point if it travels out of range or runs out of battery. Also features geofencing and robust failsafes ensure the safest operation and X8+ has longer landing gear for additional ground clearance with camera gimbals.
More Possibilities
The X8+ a 12V regulator to run FPV and gimbals and an I2C splitter for extra sensor/device connections. This massive octocoper is now compatible with large batteries (up to 12,000 mAh 4cell LiPo) and its frame can now easily be transformed from traditional symmetrical "X" configuration to a trapezoidal "V" configuration.
Documentation and user guides
OPTIONAL EQUIPMENT:
Telemetry frequency: Telemetry radios allow your ground station to communicate with your aircraft wirelessly, providing unparalleled ease of use for viewing real-time flight data, using an Android tablet or computer. Preconfigured, the set includes an air radio, ground radio, telemetry connector cable, two antennas, and a USB extension cable. Frequency regulations vary by country, so consult your local airspace communication authority if you're uncertain which frequency is legal in your area (European Union does have unified regulation for telemetry frenquency - legal frequency is 433MHz).
Video stabilization system: The Tarot T-2D brushless gimbal uses cutting-edge two-axis stabilization technology to ensure great, stable video in any flight condition. The gimbal comes pre-configured and tuned for a smooth out-of-the-box experience. The kit includes: a pre-assembled Tarot gimbal, a mounting plate, and required cables and hardware.
Extra battery pack: 3DR multicopters are powered by rechargeable lithium polymer (LiPo) batteries. Order additional 4S 6000 mAh batteries to make sure you have enough power for your missions.
Radio control system: Each multicopter requires a radio control system to be used as either primary or backup control. If you don't already have an RC transmitter and receiver, select one of the two radio control options (FlySky with a FrSky DJT module or FUTABA) and we will connect and configure it for you! If you select not to receive a radio control system, your copter will arrive without a transmitter or receiver.
OSD/FPV system: Select the on-screen-display/first-person-view system to stream live video with superimposed live telemetry data. This kit comes fully configured and includes a Sony HAD 520 line camera, MinimOSD on-screen-display module, 5.8 Ghz video transmitter and receiver pair, and two 900 mAh LiPo batteries. Note: This system does not include a device for viewing video. Please purchase a monitor or other device to view the video from the OSD/FPV system.
Stock:

In Stock

Model:

3DR X8+

Weight:

3.00