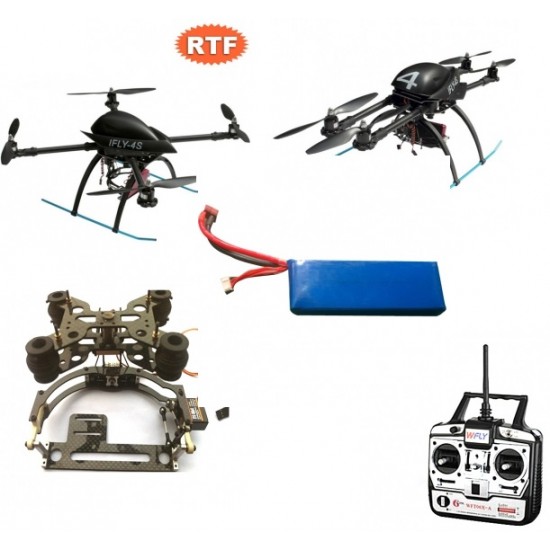 IDEA-FLY IFLY-4S Quadcopter/Four-axle Flyer RTF
Fast Delivery
Fast, Reliable & Secure Delivery
IDEA-FLY IFLY-4S Quadcopter/Four-axle Flyer RTF with Battery, Biaxial Cameral Gimbal, 2.4G Radio Control
Specification:
Weight (without receiver and battery): 810g
Max. Loading Weight (with receiver and battery): 700g
Max. Flying Weight: 1550g (overloading not suggested in order to keep good flying performance)
Axle Base: 550mm
ESC: 10A PWM high speed ESC
Battery: 3300mah, 14.8V, 35C Li-Po
Radio Control: WFLY WFT06X-A, 2.4GHz, 6 channels
KV Value of Brushless Motor: 850KV
Motor Voltage: 14.8V
Motor Weight: 42g(without plug)
Propeller: IFLY-1045
Biaxial Cameral Gimbal (with two servos)
Features:
It's easy to install and you can make it fly as long as the radio control is adjusted;
Its foldability makes it convenient to carry;
Coming with fiber bracket, upper and lower carbon fiber mounting board;
It's equipped with flight control board with more powerful function than that of IFLY4;
It's equipped with larger landing skid;
Its own balancing output function for camera makes it unnecessary to buy the balancing instrument for camera;
The improved high efficient height control system ensures continuous accurate locking whatever the loading changes;
It can take off and land automatically, and it can land slowly automatically even in case of out-of-control, which can help avoid its smashing;
Its good wind-resistance can make it fly easily in the 3-grade wind;
4-channel radio control or above is needed (mode and cameral gimbal not controlled);
High-light 4 LED lights and beepers are provided to indicate the flying status;
Built-in voltage monitor module to check the voltage of battery and use condition;
It's control output for biaxial cameral gimbal ( one for rolling , one for pitching) with auto-compensation;
It gets better compatible with most PWM ESCs in the market (HobbyWing ESC 10A recommended).
Function:
IFLYC4E Control Board:
Manual Operation Mode can provide basic automatic stabilization for the multicopter;
Automatic Balancing Mode can make the multicopter keep balance automatically;
Height Lock Mode can make the multicopter lock the height, and take off and land automatically;
When the throttle value is less than 15% in Height Mode, Out-of-Control Protection can make the multicopter fall at slow average speed and turn off automatically when falling to the ground;
Radio control with 7-channel input;
Cameral gimbal with 2-channel output;
ESC with 6-channel output.
Package List:
IDEA-FLY IFLY-4S Quadcopter RTF x 1
Motor of IFLY-4S x 4
ESC of IFLY-4S x 4
Propeller x 4
Flight Control Board x 1
Biaxial Cameral Gimbal (with two servos) x 1
Battery x 1
WFLY WFT06X-A Radio Control (2.4GHz, 6 CH) x 1
Charger x 1
Stock:

In Stock

Model:

IFLY-4S

Weight:

3.30